Home > Employee Celebration > Holiday Gift Giveaway
Holiday Gift Giveaway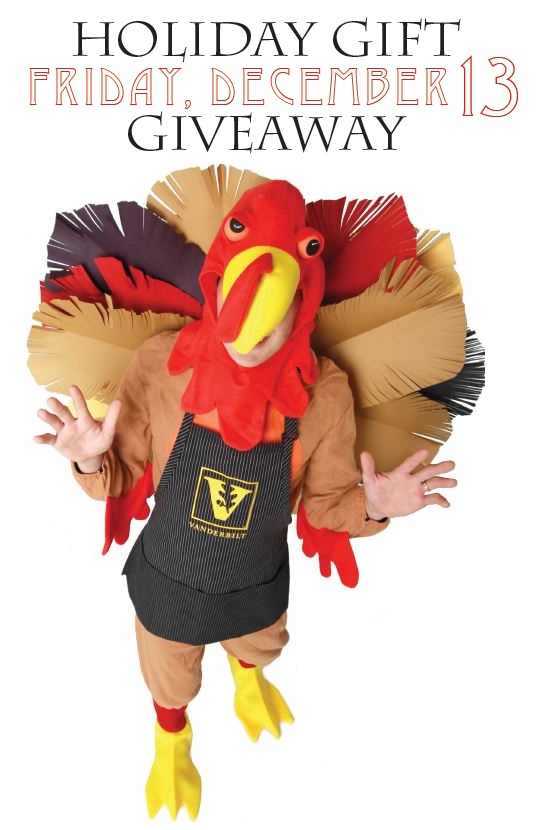 The 2013 Holiday Gift Giveaway will be Friday, December 13. Vanderbilt will provide a turkey, tofurkey or Vanderbilt apron to staff and faculty members during this winter holiday season. Employees can also donate their turkey to Second Harvest Food Bank.
Returning for 2013: a limited number of signature Vanderbilt aprons are available to choose in lieu of a turkey.
Print a flyer: Holiday Gift Giveaway flyer to post in your area!
---
Event Details:
Langford Auditorium
6 a.m - Midnight
Employees working with the University and Medical Center main campus or locations within these boundaries: North of I-440, South of 1-40, West of I-65, East of West End Avenue (including sites on West End) pick up your gift at Langford Auditorium.
One Hundred Oaks
7 a.m - 7 p.m.
Employees working outside the above area pick up your gift at One Hundred Oaks.
ID REQUIRED:  Must present a valid Vanderbilt photo ID in person t o retrieve gift. No rain checks. One gift per employee.
PARKING/DRIVING:  Regular shuttle routes will remain in effect. Special Holiday Gift event shuttles will run between Medical Center North and Kirkland Hall from 7 a.m.until 7 p.m. and between Medical Center North and 25th Avenue Garage from 6 a.m. until 6 p.m.  Open parking will be available in the 25th Avenue Garage from 6 a.m. until 6 p.m.
FOR MOBILITY-IMPARIED EMPLOYEES:  Alternate arrangements must be made in advance; please contact turkeytoss@vanderbilt.edu.
NOTE:  Garland Avenue between 24th Avenue and the Round Wing will be closed to all vehicles except patient access, mobility-impaired employees and shuttles.
TOFURKEYS and VANDERBILT APRONS:  Limited quantities available.
UNCLAIMED TURKEYS:  Will be donated to the Second Harvest Food Bank.