How to change supplemental life election in My VU Benefits
1. From the HR webpage, hover over Benefits, then click on My VU Benefits.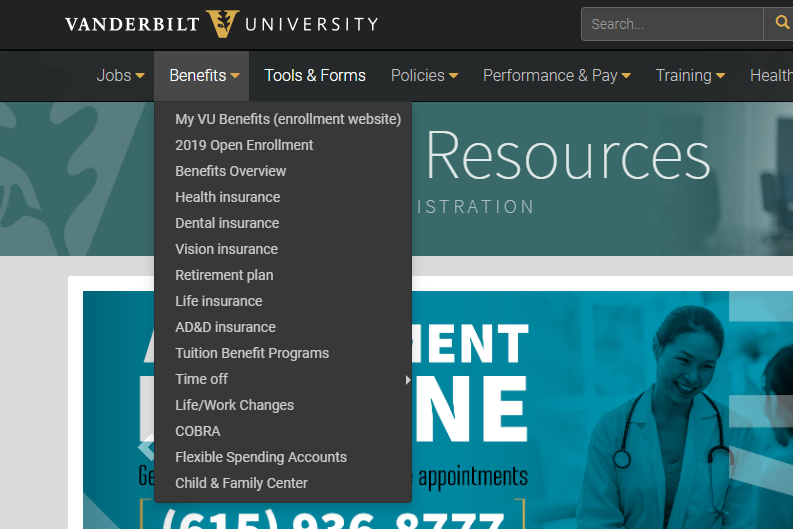 ---
2. Log into My VU Benefits.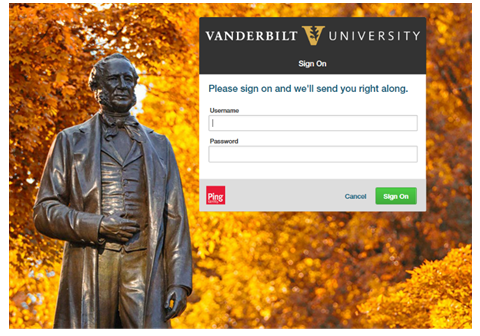 ---
3. Select Life Events from menu, click on Change Supplemental Life Coverage.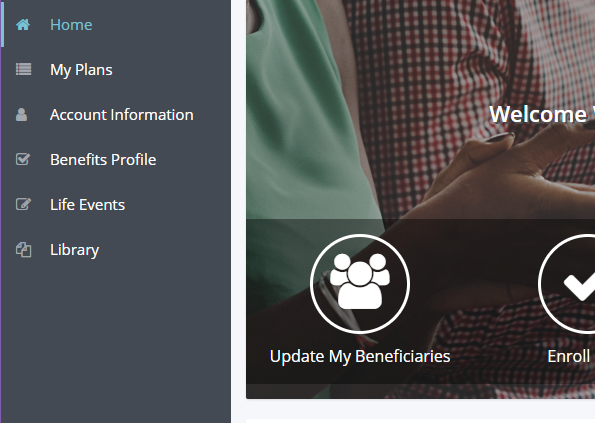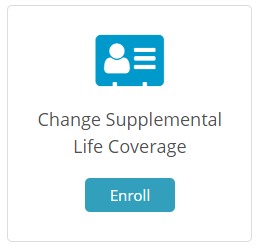 ---
4. Read the explanation text on the Change Supplemental Life Coverage Event introductory page and then enter today's date as the Date of this Life Event.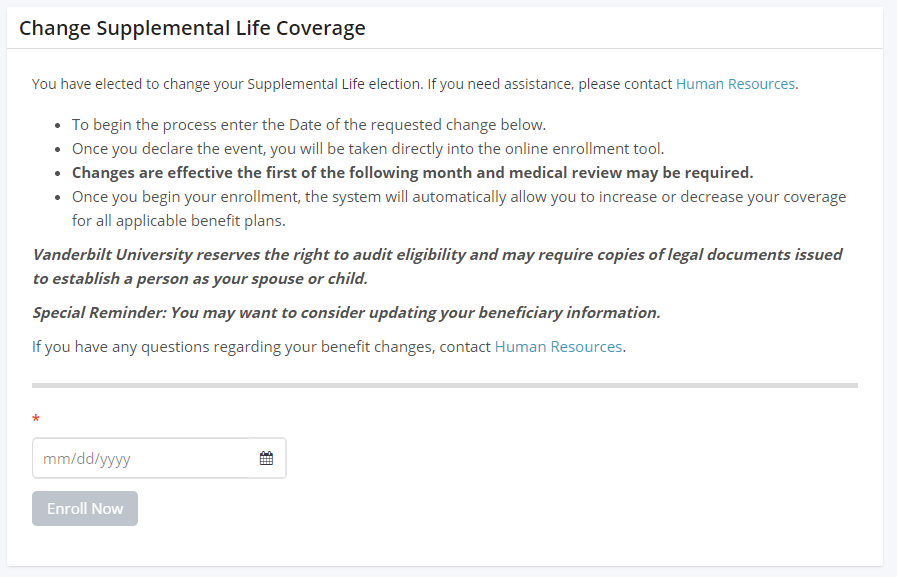 ---
5. Please note, coverage is not guaranteed; your current election for Supplemental Life Insurance will remain in effect until the requested amount is approved by MetLife. To cancel the request and exit, click the small "x" in the top right corner. To continue, click Enroll Now.
---
6. Once you've entered the date and clicked Save and Continue, click Enroll on the next screen.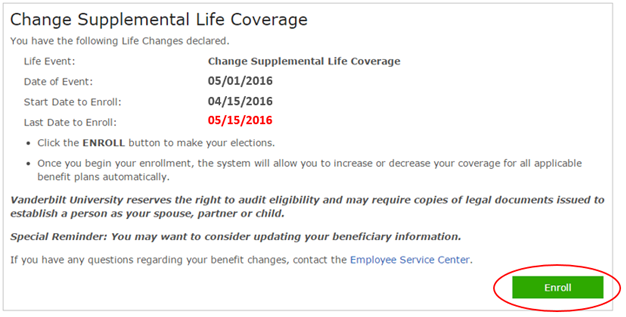 ---
7. Select the new Coverage Level for which you wish to apply. Your per-check cost will be shown to the right. Note the Evidence of Insurability (EOI) disclosure at the bottom.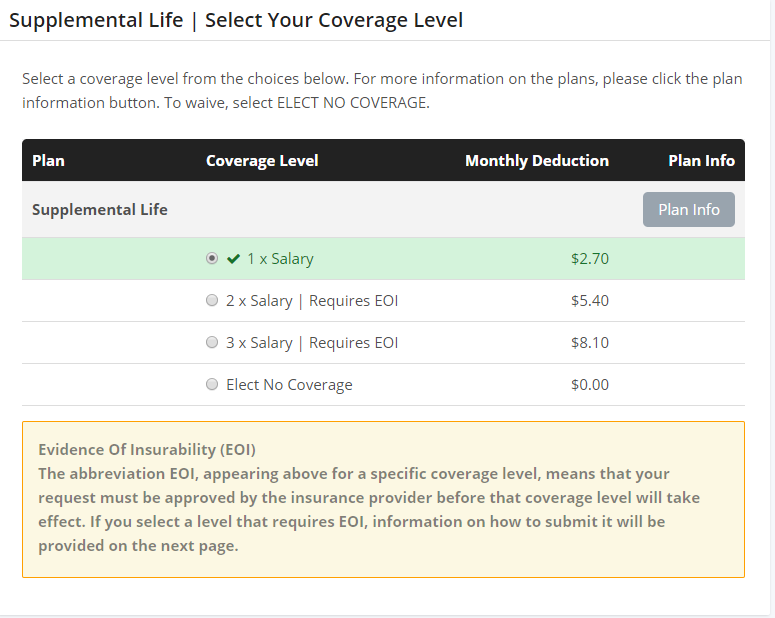 ---
8. This screen will display the amount of supplemental coverage you are applying for.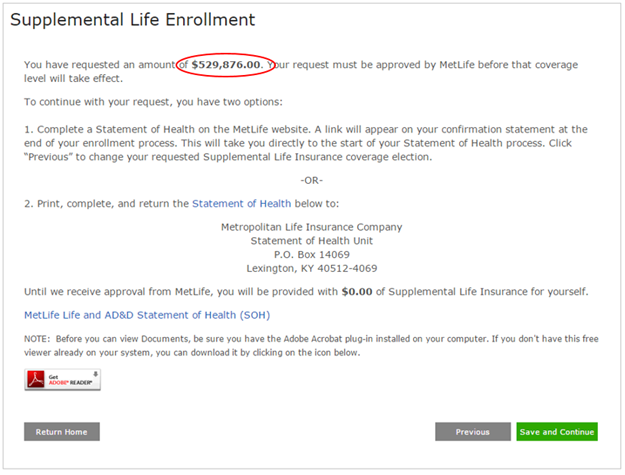 ---
9. You must now complete the MetLife Statement of Health form. You have two options:
1. Complete the form online via MetLife's secure website (a link will appear on the confirmation statement at the end of the enrollment process). When you click on Submit EOI Verification, a new window will open on MetLife's secure website. Follow the instructions and complete all required information.

2. Print, complete, and return the paper form to MetLife.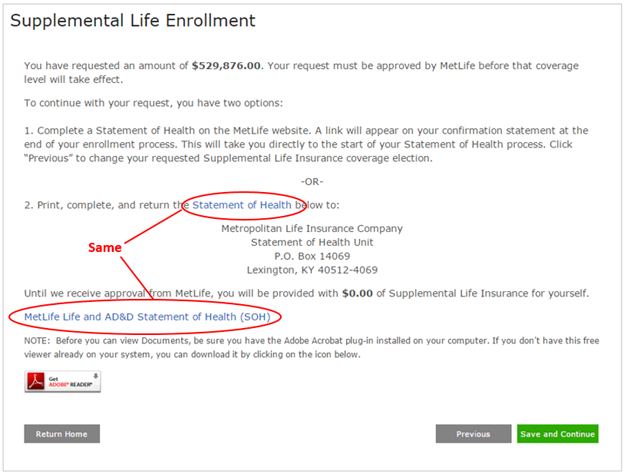 ---
10. Confirm your elections. Please note, your elections are in a pending status and will not be completed until MetLife has received, reviewed and approved your additional coverage.