Home > Benefits > Go for the Gold
Go for the Gold
Last Modified: 2016-08-17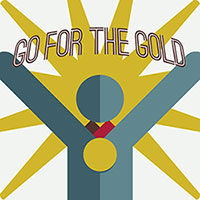 Vanderbilt's award-winning Go for the Gold program is a comprehensive health promotion program designed to help faculty and staff lead healthier and more productive lives by identifying health risks and taking action to reduce those risks.
A wellness credit of up to $240 per year is available to faculty and staff paying for Vanderbilt Health Plan benefits. Currently, the wellness credit may be applied to either the employee's health plan account and can be used by all covered dependents, or it may be applied to membership costs for the Vanderbilt Recreation and Wellness Center. The earned credits are effective Jan. 1 of each plan year. To participate in Go for the Gold, see the Health Plus website.
Resources
Frequently Asked Questions
1. How does the Vanderbilt Health Plan Account work?

Vanderbilt puts the Wellness Credit you earn for participating in the Go for the Gold program into a Health Plan Account managed by Aetna. The Health Plan Account helps you pay your deductible (the amount you pay before the health plan starts paying) and co-insurance (the percent you pay for medical expenses after meeting your deductible). The Health Plan Account is managed by Aetna, based on your chosen Health Plan option. For example, when you have a doctor's visit, the doctor sends the bill to Aetna, the carrier then processes the claim and if you have an amount due, that amount will be paid from your Vanderbilt Health Plan Account first. If you use up your Health Plan Account, then you start paying toward meeting the remainder of your deductible.The Health Plan Account will pay the first medical claims billed, whether the bill is for you or any dependent you cover on the Vanderbilt Health Plan. You can refer to your Evidence of Benefits (EOB) from Aetna for more information.
9. If I leave Vanderbilt and there is a balance in my Vanderbilt Health Plan Account, can I take the balance with me?

No. The Vanderbilt Health Plan Account is part of the Vanderbilt Health Plan and is neither portable nor transferable. If you leave Vanderbilt, you will have access to the account only while you are still covered under the health plan, which is typically the last day of the month in which you receive a paycheck from Vanderbilt. After leaving Vanderbilt, even if you continue your Vanderbilt Health Plan coverage under COBRA, your Health Plan Account will not be available to you.
10. My spouse/ domestic partner is also a Vanderbilt employee. I carry both of us on my Vanderbilt Health Plan, and my spouse/partner waives coverage. Can we both get the Go for the Gold Wellness Credit?

No. The Go for the Gold Wellness Credit paid to your Vanderbilt Health Plan Account is only available to employees who elect and pay for our health plan. If your spouse/partner waives coverage, she/he is not eligible to receive the Wellness Credit because Aetna would only have one subscriber account — for the enrolled employee, not the waiving employee. However, we still encourage you both to participate in the Go for the Gold program as part of your commitment to a healthy lifestyle. You might consider reviewing the payroll deduction amounts for Employee-Only coverage vs. Employee + Spouse/Partner coverage. As the Wellness Credit will not be paid for an employee who waives coverage, it might be worth changing your and your spouse's/partner's health plan election during Open Enrollment to the Employee-Only coverage tier.
15. Where can I receive help completing my Go for the Gold?

Come to:

Health Plus: Monday–Friday, 5 am–9 pm and Saturdays, 8 am–2 pm
Occupational Health Clinic, Medical Arts Building, Suite 640, 8 am–5 pm
In your department by appointment

Also, look for our mobile Go for the Gold help sessions at special events around campus.
17. If I have additional questions about the Health Plan Account who should I contact?

For questions about how the Health Plan Account works, contact the Human Resources.

To find out what your Health Plan Account balance is, contact Aetna.

If you are enrolled in Aetna Plus or Select, call 800.743.0910 and ask for the balance of your "Health Incentive Credit."
If you are enrolled in Aetna HealthFund, call 800.743.0910 and ask for the balance of your "HealthFund." The HealthFund total rollover for unused amounts is $3,000 individual and $6,000 family and includes the $1,000 Health Plan Account limit.
---