2019 Vandy Chills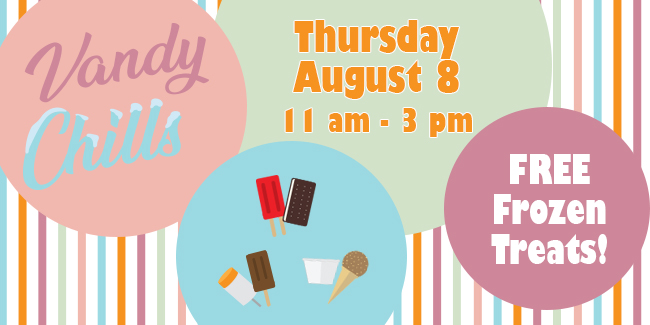 The hot summer days in the south can get pretty intense! Chill out and take part in the Employee Appreciation event, Vandy Chills. Walk on over to the University Library Lawn or catch one of the Ice Cream Truck Stops and pick up a frozen treat of your choice. There will be plenty to choose from including Dairy-Free, Gluten-Free, and
No-Sugar-Added options!
On Thursday, Aug. 8, the Employee Appreciation event will be held at the following locations:
On-Campus Location:

11 am - 3 pm –  University Library Lawn (near Harold Stirling Vanderbilt Statue)

Ice Cream Truck Stops:

11 - 11:30 am – Wyatt Center/East Hall (Under the connecting arches)
12:15 - 12:45 pm – Magnolia Circle (One Magnolia Circle)
1:30 - 2 pm – Engineering & Science Building (Lot 71, baseball parking lot)
2:45 - 3:15 pm – Loews Vanderbilt Plaza (Near office entrance) 
3:45 - 4:15 pm – Baker Building (Lot 5A, surface parking lot)
Check out the 2019 Vandy Chills gallery here.