A Night of Music
 This event has been cancelled.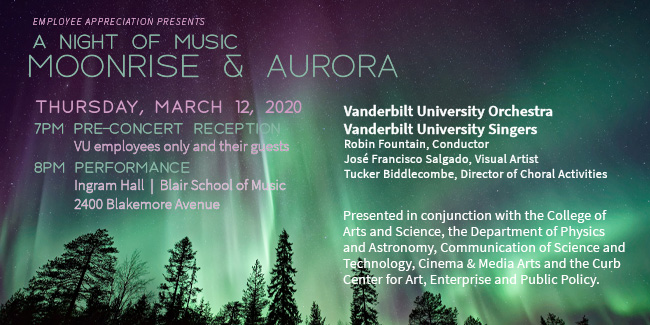 Thursday March 12  |  8:00 pm  |  Ingram Hall
Wondrous is the bright, the moonrise, the northern light. Step into a marvelous conjunction of film and music to celebrate the anniversary of the Apollo moon-landing. Astronomer, experimental photographer, science education and visual artist José Francisco Salgado, well-known for combining science and symphony, is or guest presenter in this two films Moonrise and the Aurora Triptych.
Employee Appreciation welcomes you to "A Night of Music: Moonrise and Aurora" on Thursday, March 12 at Ingram Hall, Blair School of Music.  Employees and their families are invited to attend the pre-concert reception at 7pm and the performance at 8pm by the Vanderbilt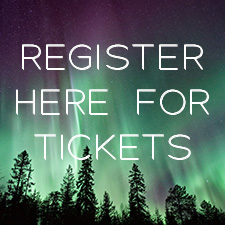 University Orchestra, conducted by Robin Fountain, and the Vanderbilt University Singers, directed by Tucker Biddlecome.
Conductor Robin Fountain and visual artist José Francisco Salgado reprise a program they presented in Singapore over the summer. Presented in conjunction with the departments of Communication of Science and Technology, Arts & Science, Physics & Astronomy, Cinema & Media Arts, and the Curb Center, the program spotlights Solaris, Borealis, Wondrous Light, by John Estacio, with video projections by Salgado. The evening also includes a collaboration with the Vanderbilt University Singers for Ravel's Daphnis Suite No. 1 and 2.
This concert is free and open to the public.  However, you must register online for your tickets and to attend the Employee Appreciation pre-concert Reception at 7pm. Performance begins at 8pm. 


Parking for this event is available for free in West Garage (2500 Children's Way) through the Children's Way entrance.
Click here to download a flyer to hang in your area. 
Visit the Employee Appreciation website or email employeeappreciation@vanderbilt.edu for more information.
Fully benefits-eligible faculty and staff, please bring your gold VU ID card with the iClass symbol to all Employee Appreciation events.
To view and download photos from all Employee Appreciation Events, visit our event gallery