Home > Employee Service Center > Employee Service Center
Employee Service Center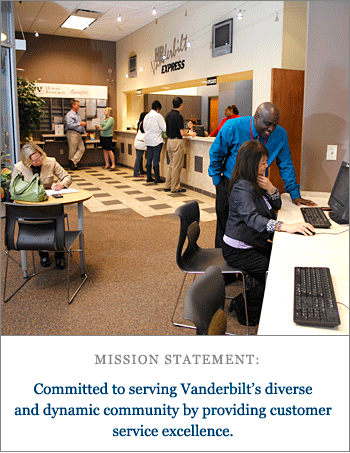 Vanderbilt faculty and staff can turn to the Employee Service Center for help with all their Human Resource needs. Our representatives use a customer service approach to answer general HR questions such as:
How do I apply for a job?
Where can I find more information on the health plan?
What are my retirement plan options?
Services
Employment Verification. If you apply for a loan, mortgage or apartment lease you will often need to provide verification of employment and earnings information.
Contact Us
Phone: 615.343.7000 (8 am - 5 pm, Monday-Friday)
Email: human.resources@vanderbilt.edu
In person:
HR Express: 2525 West End Ave., 2nd Floor. Monday-Friday, 7:30 am–5:30 pm.
HR Express / Commodore Concierge (3 locations):
Vanderbilt Health One Hundred Oaks, 719 Thompson Lane, Administration Hall, Suite 26101. Open two Fridays a month, from 10 am - 2 pm. For 2013, days are Aug. 2 and 16, Sept. 13 and 27, Oct. 11 and 25, Nov. 8 and 22, and Dec. 6 and 20.

No HR forms accepted at this location.

Medical Center North, D-2101 (HR window). Monday-Friday, 8 am-4:30 pm.

Only HR Payroll and HR Benefits forms accepted at this location.

Children's Hospital, Room 2102 (HR window). Tuesday-Thursday, 7:30 am-4pm.

Only W-4, Tuition Benefit and Personal Information Change forms are accepted at this location.
See a map of in-person locations.
---