Prescription Drug Benefit
Navitus Foreign Claim Form makes changes to aid plan participants better during COVID-19
Navitus remains committed to serving VU's employees and has made the following changes to better serve plan participants:
Refill Too Soon  
Effective April 1st, all pharmacies are to implement the Refill Too Soon (RTS) policy. RTS rejects have been lifted so that members who are affected are able to access their medications without disruption.
Albuterol Inhalers
Starting 4/4/20, all standard albuterol HFA inhalers will be available. Navitus is also adding Proventil and Proair on 4/4 to ensure members can get any product the pharmacy is able to obtain during this shortage.
Cloroquine and Hydroxychloroquine
To ensure that these medications remain available, especially for rheumatoid arthritis and lupus, Navitus has limited distribution to a 14-day supply and notified members.
Pharmacy Networks
Navitus is working closely with pharmacies to help prevent the spread of COVID-19 including social distancing, relaxing patient signature requirements, and providing alternative pick-up and delivery options. Members are encouraged to contact their pharmacy directly to obtain current hours of operation and pick-up options.
---
Overview
The Vanderbilt Health Plan includes a prescription drug benefit managed by Navitus Health Solutions. The prescription drug benefit is a multi-level formulary (i.e., list of covered drugs) with a recommended generic program.
Not all prescription drugs are covered by the Vanderbilt Health Plan. Some prescription drugs require prior authorization from Navitus Health Solutions before the prescription can be filled.
For questions regarding your prescription drug program, contact Navitus Health Solutions at 866.333.2757 or www.navitus.com.
Sample Navitus card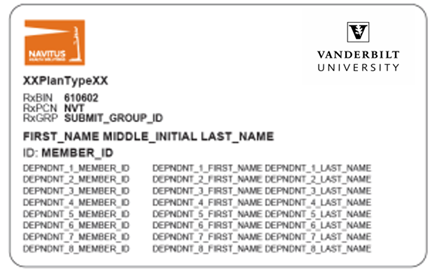 Formulary
The formulary is the list of drugs covered under the Vanderbilt Health Care Plan. You can see the list on the Navitus member website:
Go to www.navitus.com
Click on the link for Members and then click on the link for Member Login

If you have already registered, enter your User ID and Password. Then answer the security question.
If you haven't registered yet, click on the link for Click here for new registrations. You will need your Navitus ID number, found on your Navitus card. You will be prompted to create a userID and password - neither can contain your first OR last names, NavitusID number or birthdate.

Once you have logged in with your user name and password, you will see the homepage of the Navi-Gate website.
Click on the link for Formulary in the left column.
You can download a Quick Reference Formulary or a Complete Formulary.
If you need help, contact Navitus Customer Care toll-free with the number listed on your Navitus card. Navitus Customer Care is open 24 hours a day, 7 days a week (closed Thanksgiving and Christmas Day).
Vanderbilt and In-Network Pharmacies
The Vanderbilt Health Plan encourages faculty and staff to use in-network pharmacies, where you will get the best price for all other prescriptions. Click here for a list of major retailers in the Navitus network.
Mail Order Service
Mail order service is available through the Vanderbilt Mail Order Pharmacy and is an easy way for you to purchase a 90-day supply of your long-term or maintenance medications. The prescriptions can be mailed to your home or picked up at the Vanderbilt Pharmacy of your choice.
For more information on how to start the mail order service, call the Vanderbilt Pharmacy mail order service at 615.875.0078 or visit the Vanderbilt Ambulatory Pharmacy Services webpage.
Specialty Drugs
Coverage of specialty drugs is available only when filled through one of the Vanderbilt pharmacies. Specialty drugs typically treat very serious diseases. They include biotechnologically produced or genetically engineered drugs that require special storage and handling. Please contact Navitus Health Solutions for more information about specialty drugs or see the Vanderbilt Specialty Pharmacy website.
Mobile App
 With Navitus' mobile app you can:
Compare medication prices to find the lowest cost option for you
Locate the most convenient network pharmacies
Save your preferred pharmacies for quick and easy access
Access medication and benefit information
View your member ID card
The mobile app features easy registration, simple navigation, and an innovative, user-friendly design to help you navigate your prescription benefits. Plus, you'll gain access to all of the helpful information you need to make informed decisions about your prescriptions and health.
Money-Saving Tips
Ask for a generic drug. Generic drugs are less expensive because generic manufacturers don't have the investment costs of the developer of a new drug. These drugs use the same active ingredients as a brand-name drug, and are shown to work the same way in the body.
Use a pharmacy in the Navitus network. The Navitus website has listings and maps of participating pharmacies in your area, including 24-hour pharmacies.
Have a conversation with your doctor. Let him or her know that cost is a concern for you. Ask these questions:

Are there medications available that work the same but cost less?
Are there generic drugs that will work the same as my brand-name drugs?
Are free samples available?
Is there an older version of the drug that would be just as effective but is less expensive?
Is pill splitting an option?

Have a conversation with your pharmacist and ask these questions:

Ask if any new generic drugs have become available.
Ask if any of your prescription drugs have become available over-the-counter.
Ask if buying in larger quantities will save you money, such as buying a 90-day supply instead of a 30-day supply.
Drug Manufacturer's Coupons
The Vanderbilt Health Plan does not allow pharmacies to accept drug coupons for prescriptions because drug manufacturers promote their drugs with these coupons, which generally are more costly than a generic equivalent or a preferred drug for the health plan. While the patient's use of a coupon will lower his/her own out-of-pocket cost, it lessens the patient's responsibility as an active participant in the Vanderbilt Health Plan. Vanderbilt University pays the remaining cost whether or not coupons are used, yet pharmaceutical companies are trying to increase their utilization with these coupons, which drives up the cost to the health plan.
How to File a Claim
Mailed Paper Claims
1. Download the appropriate claim form:
2. Complete the form. Incomplete forms will be returned without payment and with a request for additional information.
3. Sign and date the Certification Statement.
4. Submit a separate form for each family member.
5. If the member has other insurance coverage, attach a copy of the Explanations of Benefits or Denial Notification from the primary insurance carrier.
6. Keep a copy for your records.
7. Mail the claim form along with the original pharmacy receipt, not the cash register receipt, to:
Navitus Health Solutions
Operations Division - Claims
P.O. Box 999
Appleton, WI 54912-0999
Faxed Paper Claims
1. Fax paper claims and pharmacy receipts (not cash register receipts) to 920.735.5315 (or toll-free at 855.668.8550).
If you have questions, please contact Navitus Customer Care toll-free at the number listed on your pharmacy benefit ID card.
Navitus Contact Information