Health Care Plan
Benefits-eligible employees can choose between two health options, which are administered by Aetna:  Choice CHDP and Select PPO. Health benefits begin on your hire date, or the first date you become eligible. Monthly premiums are not prorated. Click here to view the evidence of coverage booklets (most detailed information), summaries of benefits and coverage (SBCs), and other documentation for each option. Click on the links below for the provider directory and administrators' web sites. Also see the Health Care Plan Summary Plan Description. 
While we try to provide accurate information, this is summary information and as such, certain details and qualifying information is not included. If any information provided here varies from the official plan documents, the plan document prevails.
Aetna Docfind Online Provider Directory
Sample Aetna card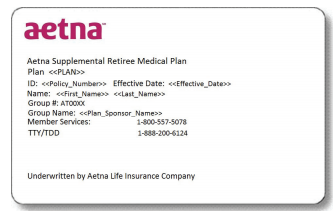 Check out Aetna's new app, which will be replacing the current Aetna Health app at the end of 2019. 
Prescription Drug Benefit
Both health plan options include Prescription Drug Benefit coverage, but costs apply differently, depending on which plan you choose. Navitus Health Solutions administers the prescription drug benefit for all Vanderbilt faculty and staff enrolled in either health plan option.
Other Benefits
Preventive Care Program. Both health plan options include a comprehensive Preventive Care Program that covers such things as annual well-checkups and well-baby visits for covered dependents.
Applied Behavior Analysis for Autism Spectrum Disorder. The Select PPO Vanderbilt Health Plan option includes coverage for Applied Behavioral Analysis (ABA) therapy for autism spectrum disorder (ASD). Refer to the Evidence of Coverage Booklet for more information.
Tobacco Cessation Benefit. Vanderbilt helps to pay for a tobacco cessation program for employees and their dependents covered on the health plan. Learn more.
Health Care Plan Eligibility
See

Benefits Eligibility

 for details on who can enroll in health care coverage.
Aetna automatically issues health insurance cards for the 'default' health plan option (Aetna Plus plan at the 'employee-only' coverage tier) to new fully benefits-eligible employees. To elect another health plan option and/or to cover eligible family members, you must complete New Hire Enrollment in My VU Benefits within 30 days of your hire or eligibility date (see "How to Enroll" below). If you elect another health plan option, you may disregard the Aetna Plus card. If you choose the Aetna Plus health plan option, keep the card for your use.
Vanderbilt Health Plan coverage for partially benefits-eligible employees is optional. You will not be automatically enrolled in a default health plan option.
Health benefits begin on your hire date, or the first date you are eligible. The monthly cost of the health plan is not pro-rated.
CHIPRA
Special Enrollment Rights under CHIPRA. The Children's Health Insurance Program Reauthorization Act of 2009 (CHIPRA) was enacted by the United States federal government on February 4, 2009. CHIPRA created new special enrollment rights effective April 1, 2009. CHIPRA extended the State Children's Health Insurance Program (SCHIP) through 2013 and renamed it the Children's Health Insurance Program (CHIP). Learn more about CHIP. The special enrollment rights under CHIPRA allow the following for qualified Vanderbilt Group Health Plan members:
How to Enroll
To enroll, use My VU Benefits within 30 days of your hire date:
Go to My VU Benefits and log in with your VUnetID and ePassword
Make your benefits selections
Print your benefits enrollment receipt and keep it for your records
Medicare
Resources

Links to Vendors
Go for the Gold
For complete details of the Health Care Plan, refer to the Summary Plan Description.
Children up to age 18 under legal guardianship or custody of the employee must meet the definition of dependent under the Federal Tax Code for income tax purposes and be able to show supporting documentation (such as the employee's claim of dependency for the child on the relevant portion of your most recent IRS Form 1040 federal income tax return) in order to be eligible under the Plan. Children under legal guardianship or custody, who do not meet eligibility requirements above in (a), will lose their coverage eligibility the first day of the month following the month in which they turn 18 years of age (age of majority).