Retirement FAQs
Investment & Contribution Elections
What investment options are available?
Vanderbilt's plan includes three tiers of investment choices so you can easily create an investment mix to suit your investment style and preferences. You can choose among the following tiers of investments:
Tier 1: Target Date Funds. These funds offer an all‐in‐one approach to simple investing. The Vanguard Target Retirement Funds are designed for investors expecting to retire around the year indicated in each fund's name. The funds are managed to gradually become more conservative over time as you get closer to retirement. The funds are subject to the volatility of the financial markets, including the volatility of equity and fixed income investments in the United States and abroad, and may be subject to risks associated with investing in high‐yield, small‐cap, commodity‐related, and foreign securities. Principal invested is not guaranteed at any time, including at or after the funds' target dates.
Tier 2: Core Investment Options. If you have some investment experience, yet want a carefully selected menu of choices that are monitored by Vanderbilt, these investment options may be the best alternative for you. Tier 2 investments include mutual funds across several asset classes, such as domestic and international equities, fixed and guaranteed income investments. It's up to you to decide how much risk you want in your portfolio and how to allocate your assets among the menu of core funds. As a general rule, you should periodically evaluate and rebalance your investments and retirement portfolio based on your retirement goals, risk tolerance, and time horizon.
Tier 3: Self‐directed Brokerage Option. Fidelity BrokerageLink®, a self‐directed brokerage account combines the convenience of your 403(b) Plan with the additional flexibility of an individual brokerage account. It gives you expanded mutual fund investment choices and the opportunity to more actively manage your retirement contributions. If you are an investor who is willing to take on the potential for more risk and you are comfortable managing your portfolio, it could be appropriate for you. However, if you do not feel comfortable actively managing a portfolio of options beyond those offered through your plan's standard investment options, then a self‐directed brokerage account may not be appropriate for you. Remember, it is always your responsibility to ensure that the options you select are consistent with your particular situation, including your goals, retirement time horizon, and risk tolerance.
How do I select investments and manage my account?
Log on to Fidelity NetBenefits at www.netbenefits.com/vanderbilt or call Fidelity at 1.800.343.0860, Monday through Friday from 7 a.m. to 11 p.m., Central time to speak with a representative. Refer to these instructions to set up your account and complete transactions.
How do I change the percentage that I contribute to the retirement plan?
Log on to Fidelity NetBenefits at www.netbenefits.com/vanderbilt or call Fidelity at 1.800.343.0860, Monday through Friday from 7 a.m. to 11 p.m., Central time to speak with a representative. Refer to these instructions to set up your account and complete transactions.
What are the IRS contribution limits?
See the Investment Limits page for current IRS limits. For your convenience, Vanderbilt's payroll processing system will automatically stop deducting contributions from your paycheck once your reach the IRS limit for your age.
Can I use Tiers 1, 2, and 3 or can I only invest in one tier?
Yes, participants can invest funds in one, two, or all three tiers. A Fidelity BrokerageLink® account will need to be established for Tier 3. Most participants who use tier 1 invest all of their contributions in a target date fund.
How do target retirement funds work?
Target date funds are mutual funds that contain a mix of stock, bond and cash investments considered appropriate for your age. You select a fund for the year you expect to retire. Professional managers monitor and adjust the investment mix over time. The fund mix is typically more aggressive when you are young and focused on growth, and becomes more conservative as you get closer to retirement age and focused on maintaining what you've earned. If you select one of these funds, you will not need to manage your investment mix - the fund managers will do it for you.
Are individual stocks and ETFs available through BrokerageLink?
No, federal law prevents individual stocks and ETFs from being offered in a 403(b) plan.
Where will my matching contributions be invested?
Your matching contributions from Vanderbilt are invested in the same funds that you select for your own contributions, whether you invest in target date funds, core funds, or through a self-directed brokerage account or any combination of the three tiers. If you direct any of your contributions to go to a brokerage account, the match would be invested in the same funds and allocations that you have selected for your contributions.
I made my investment selections in NetBenefits, but I did not receive a confirmation email. Why?
You may have turned off confirmation messages in your email setting preferences. To change your settings, log in to NetBenefits, click "Your Profile" at the top, and then select "E-Mail Settings" from the left preferences menu. Check the box next to the type of confirmations or emails you would like to receive, and then click the "Update" button at the bottom of the screen. You can also verify Fidelity has the correct email address on file at the top of the E-Mail Settings page.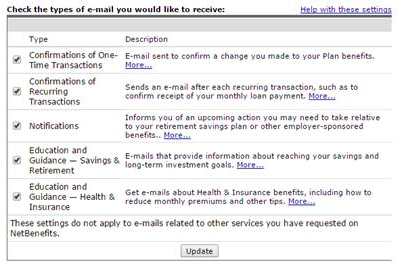 Costs & Fees
Do I pay fees to make investments in the Plan?
All investment options have expense ratios and other administrative or fund-specific fees that can be found in the prospectuses located on each investment provider's website. Some investment options may also have redemption fees. Fidelity also charges a recordkeeping fee.
How will the recordkeeping fee be charged and appear on my statement?
The recordkeeping fee is charged quarterly and listed as Fees in your account summary: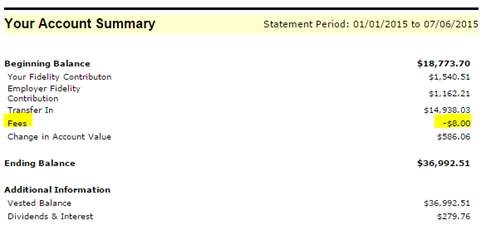 You may also see it listed as Administrative Fees in the Account Activity section of your statement. The fee is proportionally divided among contribution types: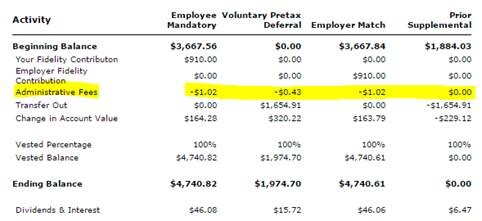 What are the fees associated with the new investment lineup?
Fees related to each registered investment option are expressed in the form of an expense ratio and are disclosed in the fund's prospectus.
Are there any fees associated with a Fidelity BrokerageLink account?
There are no ongoing fees to have a BrokerageLink Account. However, mutual funds available in the BrokerageLink account are subject to the same types of expense and management fees associated with funds in Tier 1 and Tier 2 and some funds in the BrokerageLink account may have short-term trading fees associated with shares held less than the stated holding period. Please refer to the fund's prospectus for complete information on the expense ratio or any short-term redemption fees associated with a particular fund by logging on to www.netbenefits.com/vanderbilt. Also, some non-Fidelity funds may charge a transaction fee. Please refer to the fact sheet and commission schedule within the BrokerageLink kit for a complete listing of brokerage fees.
Transaction Fee Funds (which are funds not participating in the Fidelity's "No transaction fee" (NTF) funds program), such as Vanguard funds, have a transaction fee assessed on each new purchase. The Vanderbilt 403(b) Plan allows payroll contributions to be directed to a BrokerageLink account. If you set up an automatic investment into a transaction fee fund for these payroll contributions, you can avoid the transaction fee assessed for that purchase. Automatic investments can be set up by calling Fidelity or following the instructions in this account guide.
Some funds in BrokerageLink do have fund minimums that must be met, even for automatic purchase into those funds.
Where can I learn more about the fees and expenses associated with investing in retirement plans?
This fact sheet prepared by Fidelity explains the most common types of fees and expenses associated with retirement plan investments, including who pays them and how they are calculated.
Guidance Sessions
What should I expect from a one-on-one guidance session with Fidelity?
A typical meeting with Fidelity, either in person or over the phone, will take about 45 minutes and will provide education on the upcoming updates, an understanding of what you can do with your existing Vanderbilt retirement account, and help determining if you are on track for retirement.
Schedule a Meeting with a workplace financial consultant 
Can I bring my spouse or another person to the counseling session?
Yes. You can bring anyone you choose to one-on-one guidance sessions.
What do I need to bring with me to a Fidelity one-on-one investment guidance session?
It is best to bring all your investment account statements, including investments outside of the Vanderbilt Retirement Plan, as well as your current retirement account statement(s) and your most recent Social Security statement if available.
Withdrawals & Loans
Can I take a loan from my retirement account?
Yes, the design of the Plan has not changed; loans will now be available through the Fidelity recordkeeping system. You will be able to have one outstanding loan at any particular time through Fidelity.
Can I take a loan or hardship withdrawal from my legacy retirement account with TIAA-CREF or VALIC?
Loans and hardship withdrawals are only available through Fidelity. If you would like to take a loan or hardship and have assets remaining at TIAA-CREF or VALIC, you must first transfer your balance to Fidelity. Please remember that only voluntary contributions are eligible for loans and hardship withdrawals (mandatory and matching dollars are not eligible). More information on withdrawals and distributions can be found here.
When I retire or leave Vanderbilt, what are my distribution options?
Generally, you have three options:
Roll your account balance over to another employer's retirement plan, or an IRA.
Receive the balance as a lump sum payment (distribution), minus applicable taxes or penalties.
Keep your money in the plan, if your balance is greater than $1,000.
If your account balance is greater than $1,000, it will remain invested in the Vanderbilt retirement plan unless you request a rollover or distribution. Visit the Leaving Vanderbilt or Retiring from Vanderbilt pages for contacts and more information. If you are near retirement age, you may have additional options. See resources for employees close to retirement.