2022 Employee Appreciation Football Game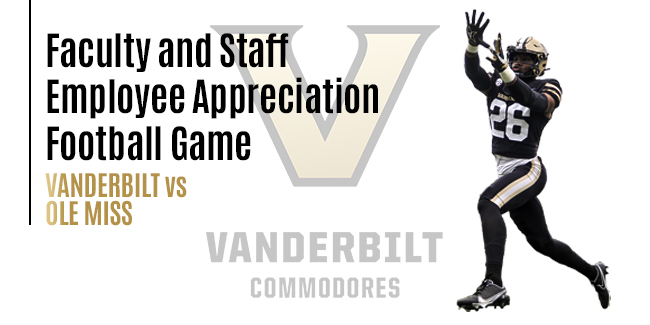 As a thank you for your service and dedication to Vanderbilt University, Vanderbilt University Human Resources invites employees and their families to attend the Saturday, Oct 8 Vanderbilt vs. Ole Miss football game. This is Vanderbilt's Homecoming game. Gates open at 1 p.m. Kickoff will be at 3 p.m.
Tickets are free to University employees and their families but must be reserved in advance. There are 1,500 tickets available, and each employee may reserve up to four tickets. Employees will also receive a free concessions voucher and a free refillable souvenir cup upon entry to the stadium.
Employees may select one of the two concessions voucher options. Option 1 includes fries and your choice of one cheeseburger, chicken tender or hot chicken tender basket. Option 2 includes one small popcorn and either a hot dog or nachos. Employees will need to visit the concession stand that sells the items they want in order to select option 1 or option 2 as not all concession spots carry the same items.
ASCEND Federal Credit Union will also give a free Vanderbilt Football t-shirt to the first 600 employee attendees.
Register for tickets online:
Employees must secure tickets to the Employee Appreciation Game through Vanderbilt Athletics' ticket site.
Enter your Person Number into the Promo Code box. To find your Person Number, visit SkyVU and under Me, click Personal Information, and then Employment Info. Scroll down until you find your Person Number.
Click on Find Tickets.
Tickets are available in Sections F&G.
Green dots are tickets that are available.
Employees may select up to four tickets.
Click on the desired green dot and select the ticket.
Click Add to Cart.
If you select the Parking Pass option, you will be asked to pay $35.00 for a Tailgate Pass. This pass will allow you to tailgate in Lot 2 on game day. You may use your regular campus parking for the game.
Click Checkout.
You will then Log In to your existing account or Create a new account.
Tickets will be delivered to you digitally by email and if you have a smartphone, you will be able to access them on your phone.
It is strongly recommended that you save your electronic tickets in your phone's Wallet App for game day. If not, you may have trouble accessing your tickets in the stadium area.
Game attendees must have a ticket to enter the stadium. Children age 2 and under do not require a ticket for any regular season home game on Vanderbilt's campus. The child must sit in the lap of a parent. Any related bags should be stowed under the parent's seat to keep the aisles and rows clear of items that may hinder ingress or egress of fans. 
For any accessibility inquiries including limited mobility or wheelchair access, please email ele@vanderbilt.edu for additional assistance. We will connect you with Athletics to ensure that you have an accessible game day experience.
Please follow the SEC clear bag policy at https://vucommodores.com/clear-bag-policy/.
Parking Map: https://vucommodores.com/wp-content/uploads/2021/09/Athletics-Parking-Map-2021_No-Tailgate_300ppi.jpg
If you would like to purchase additional tickets to the Employee Appreciation Football Game, please contact the McGugin Center Ticket Office at 615.322.4653 or ticket.office@vanderbilt.edu
For more information email ele@vanderbilt.edu .