Leading at VU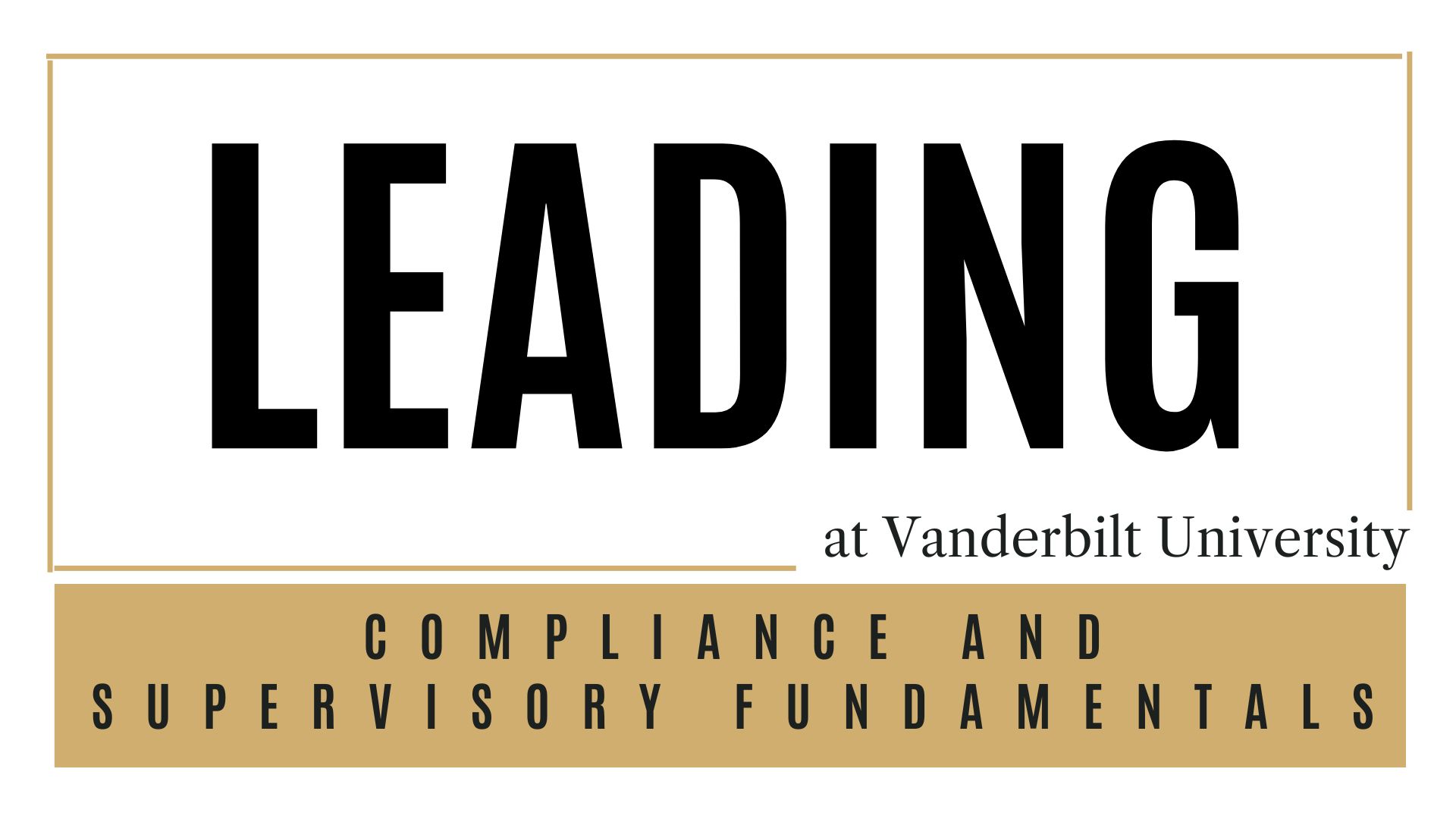 Leading at VU is a flexible, self-paced learning experience, designed to be completed over the course of one or two semesters . It offers employees at any level and in any type of role the opportunity (1) to build or enhance their knowledge of managerial policies at VU, and (2) to develop or enhance their leadership skills.      
Leading at VU is available to any Vanderbilt University employee who:  
Is currently serving in a supervisory, managerial, or leadership role (a people leader), or

 

Aspires to serve as a people leader in the future, or

 

Is interested in further developing their knowledge of VU policies
Leading at VU is open access – employees can self-enroll and do not need to apply for or seek nomination to participate.     
We invite you to explore more information about Leading at VU:
Leading at VU is comprised of two parts:  
Compliance and Supervisory Fundamentals

(available now!)

Leadership Fundamentals

(scheduled to be available in mid-2023)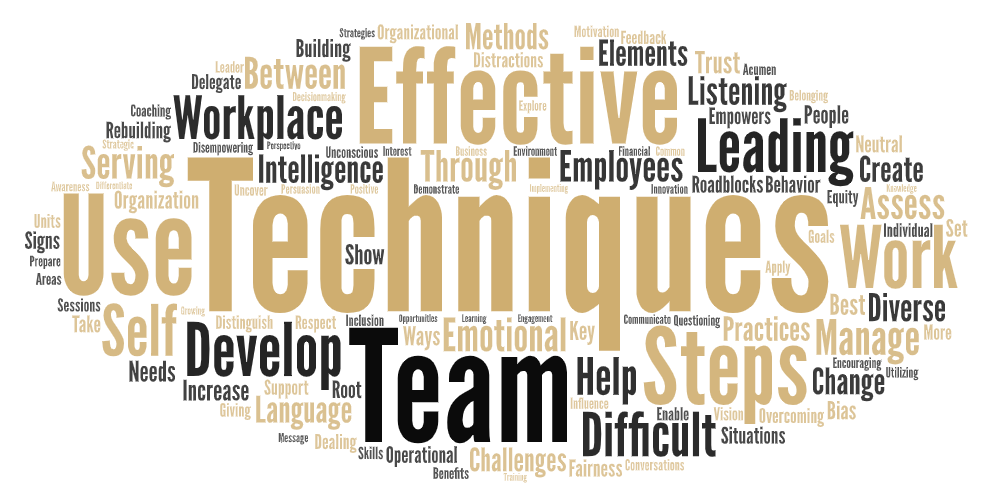 Compliance and Supervisory Fundamentals
Compliance and Supervisory Fundamentals aims to:  
Orient new supervisors to important HR policies and procedures 

 

Introduce supervisors to key campus resources including departments, processes, procedures as well as additional training 

Prepare supervisors to effectively apply VU policies
Self-paced modules cover a variety of content, including:  
HR Consulting, Employee and Labor Relations
Workers' Compensation
Family Medical Leave Act (FMLA)
Accommodations

Protection of Minors

 

Title IX

Responding to Discrimination and Harassment

Workplace Safety

Oracle for Managers

 
As we continue to build out Leading at VU, we will invite participants to additional learning experiences on topics including diversity, equity, inclusion, and belonging; an experiential session on applying policies; and more. 
Once a participant completes all required modules, they may request a certificate of completion for Leading at VU: Supervisory and Compliance Fundamentals.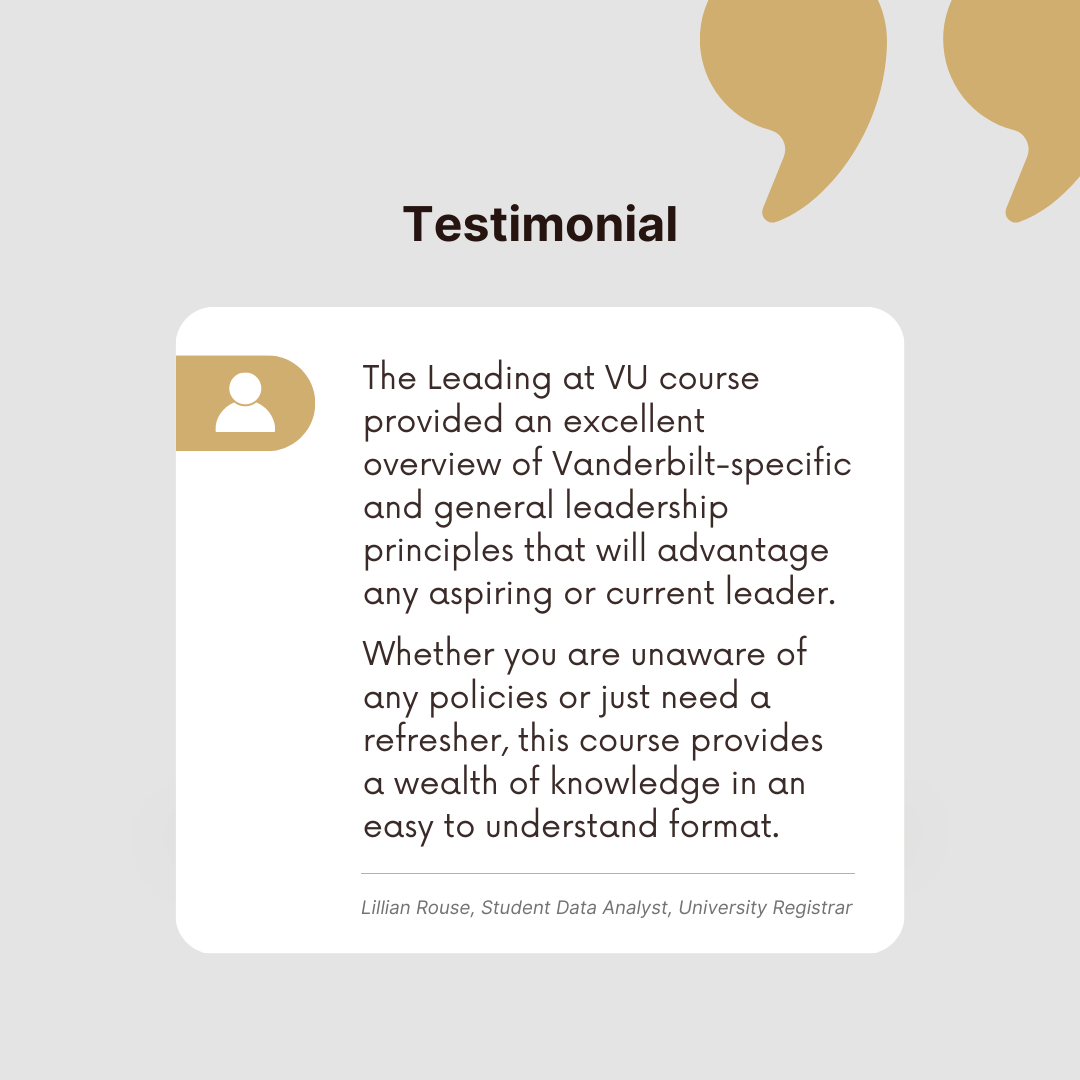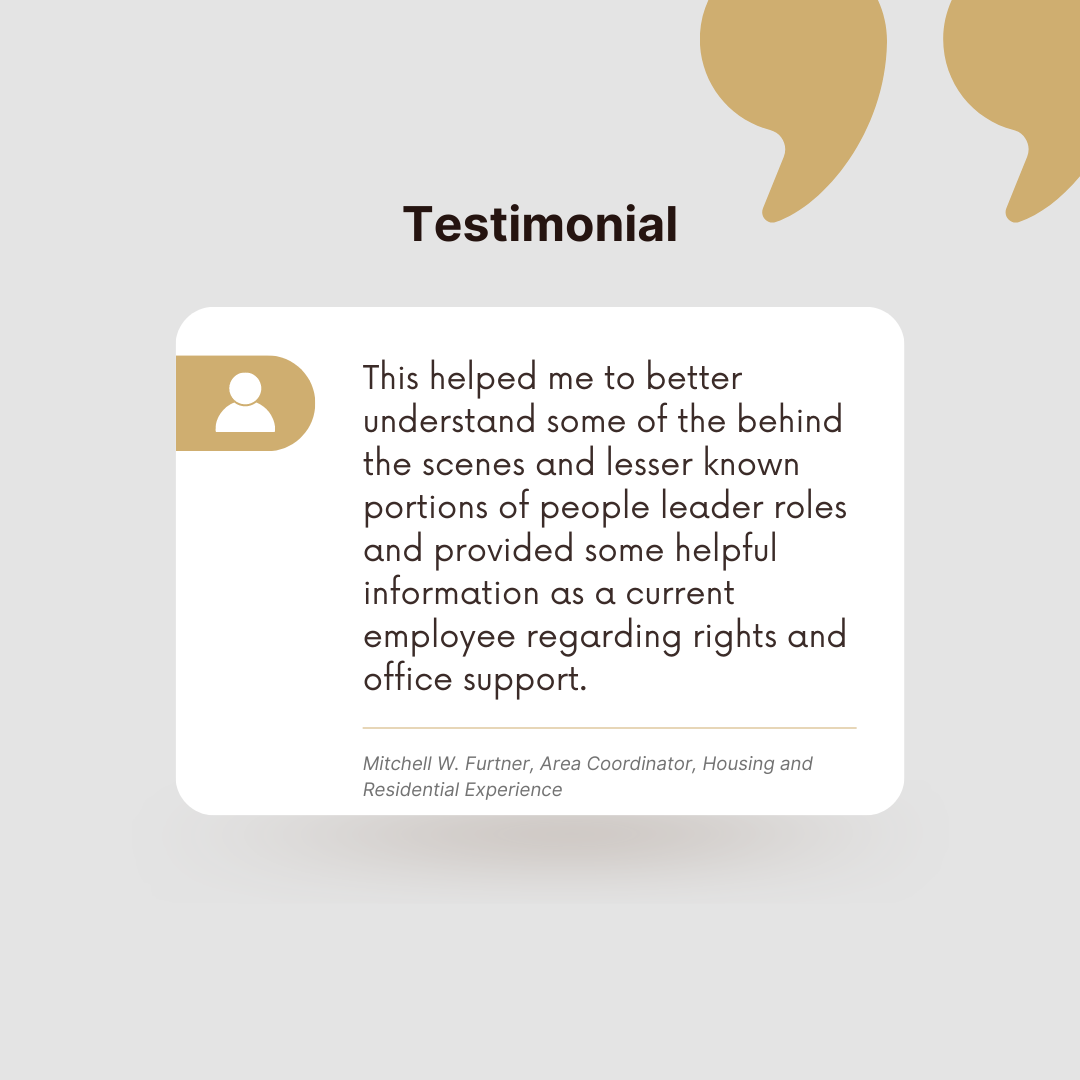 We invite you to enroll within Oracle: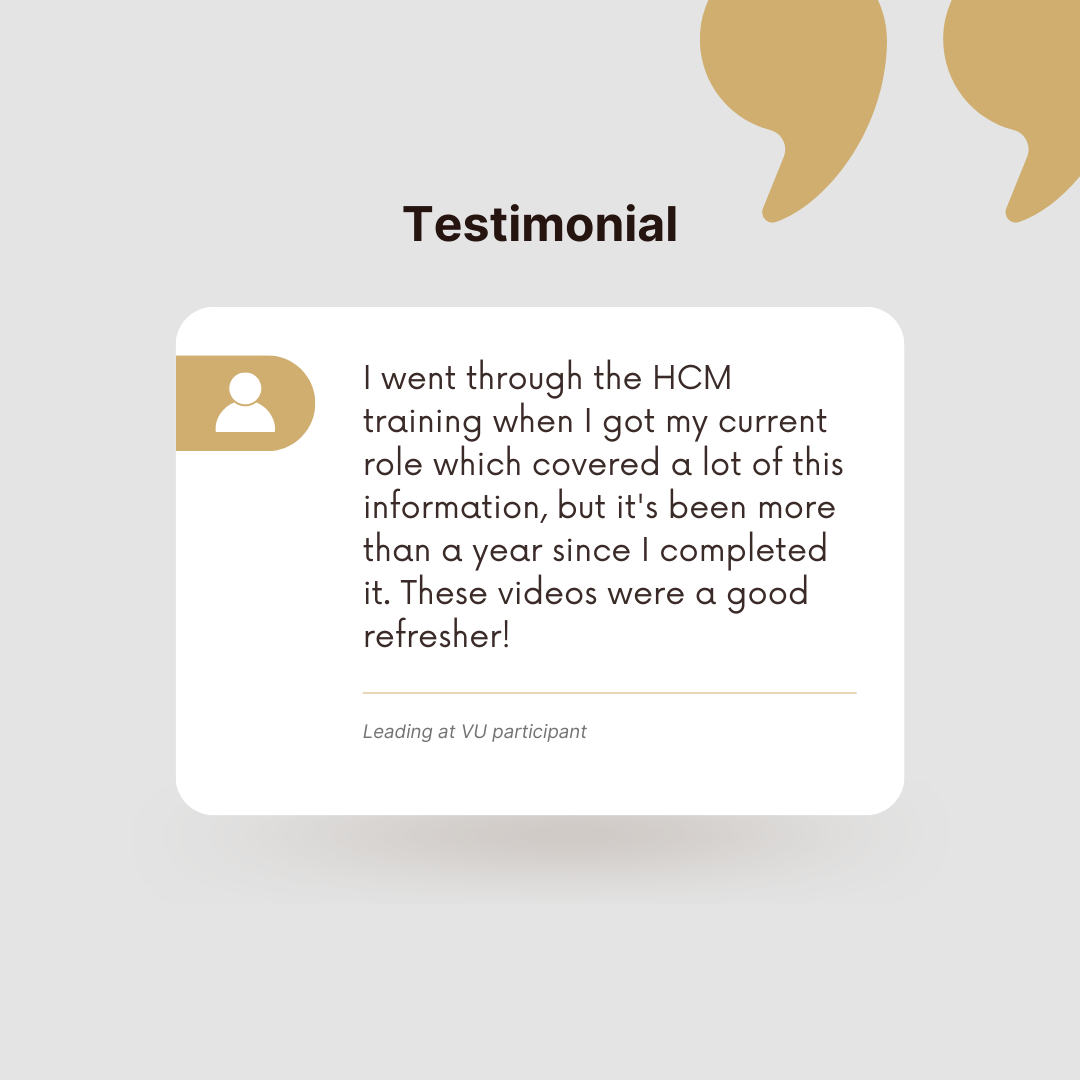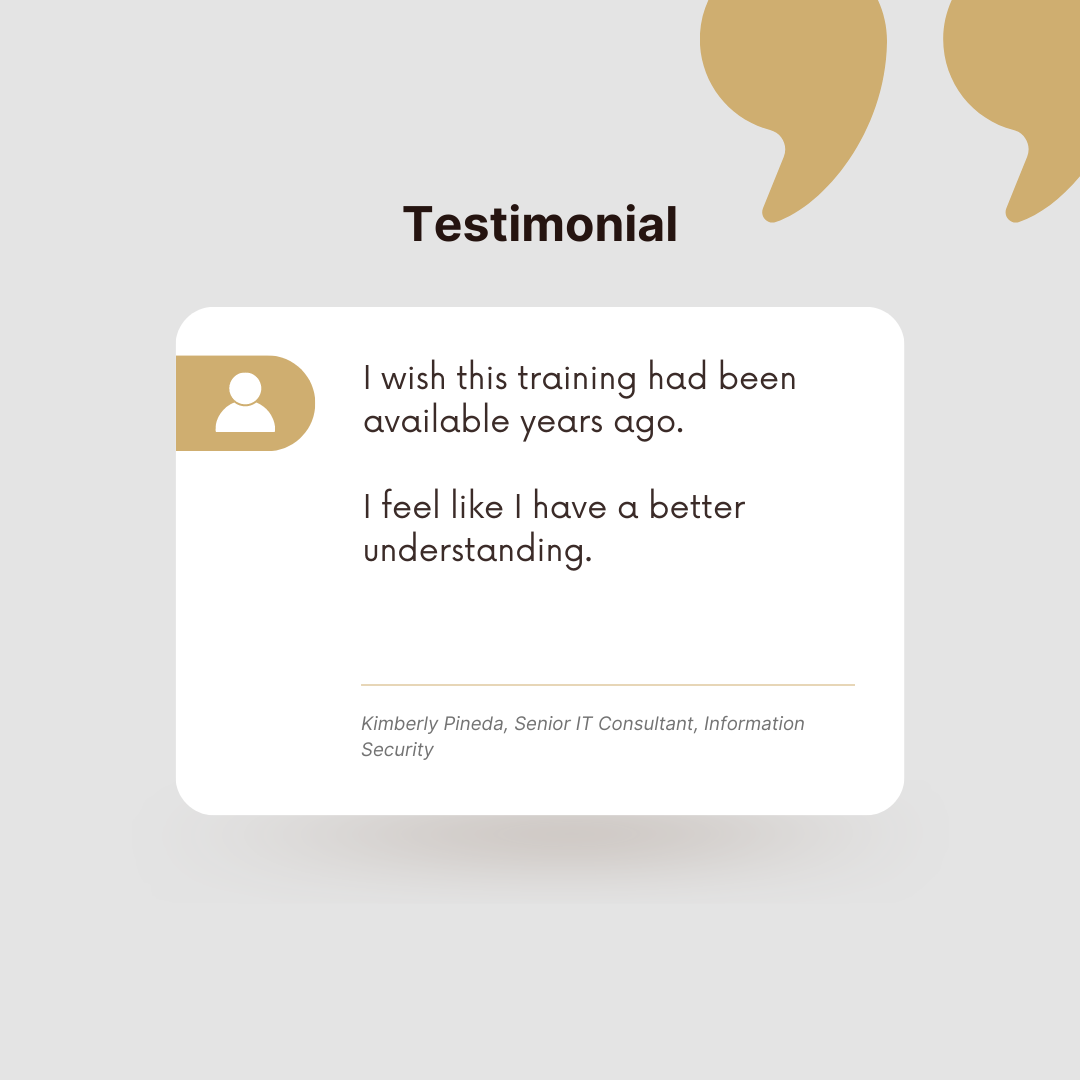 Do I need to be nominated or apply to participate in this program? 
No, Leading at VU is open to every VU employee. To join, use this direct link, or navigate to oraclecloud.vanderbilt.edu and search for "Leading at VU." We encourage employees to discuss their participation and learning journey with their supervisor, and we encourage supervisors to celebrate their employees' completion of the program.  
I'm not in a leadership role yet – can I still participate? 
Yes – this program was designed for those already in people manager roles, those interested in a leadership/people manager in the future, or those interested in the leadership development topics. If you are not yet in a people manager role, this program may help you further develop your foundational leadership skill set, and showcase to your supervisor (or future supervisors) that you are dedicated to growth and development in this area.   
I've been a supervisor for x years already - will this be helpful for me?
Yes, in fact feedback we received from our pilot group included that these modules are beneficial as a reference. You can watch or rewatch them any time you want or need to refresh your understanding. 
How long do I have to complete this program? 
We anticipate that most participants will complete both Compliance and Supervisory Fundamentals, within a semester. However, this is mostly a self-paced program, so you may complete it at whatever speed makes sense with your workload and interest.  
Will I receive a certificate of completion? 
Yes! As soon as you complete the modules in Compliance and Supervisory Fundamentals, please complete the certificate request form linked in Oracle. (You'll see it in the final area of the specialization.)
Are captions available?
We are working to add captioning resources within each module; these should be available in Oracle under "related materials." If you would like to be notified when captioning is available for all modules, please email us at ele@vanderbilt.edu. 
How can I share this information with my colleagues?
We invite you share this website (https://hr.vanderbilt.edu/ele/leadingatvu.php) and/or the Leading at VU flyer.