Administrative Professionals Learning Circles
| | |
| --- | --- |
| | The Administrative Professionals Learning Circles are a peer-to-peer educational experience that offer social learning opportunities and conversations about a trending topic.  |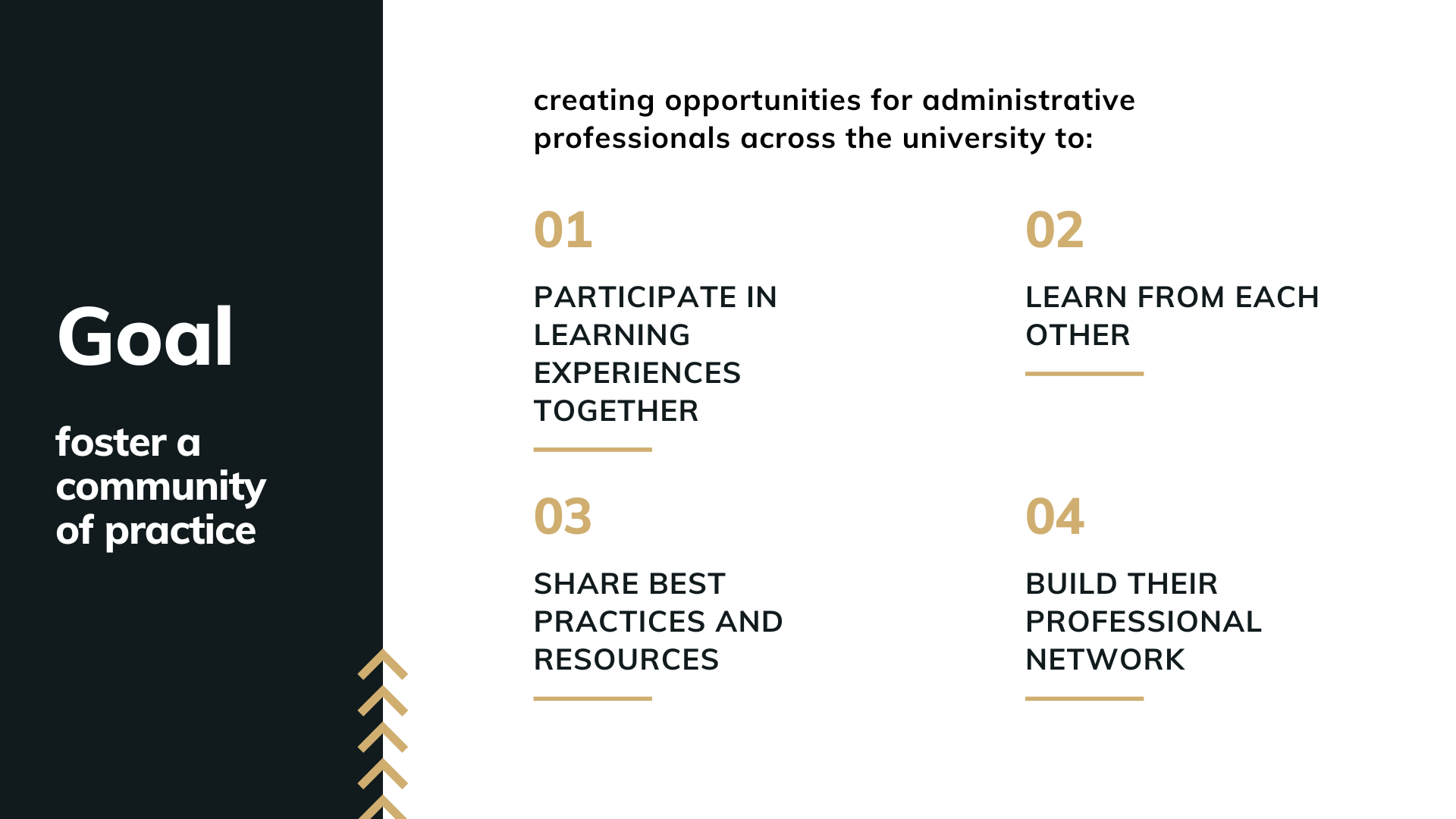 Administrative professionals include executive assistants, administrative specialists, administrative and program coordinators, administrative assistants and more. If you provide some form of administrative support, we invite you to join this learning circle.   
2023 Administrative Professionals Learning Circle dates:
June 22, 10:00-11:00 a.m. on professional memberships and certifications

April 26, 2:30-3:30 p.m. to celebrate Administrative Professionals Day

additional dates to be announced!
How do I join? I missed the first Learning Circle!
A Teams workspace has been created - we invite you to join via this link
Within the Teams space, we've created channels based on our conversation last week:

Introductions and connections – please introduce yourself!
Professional development opportunities – for sharing upcoming workshops, interesting articles, etc., related to professional development
Technology tips and questions – for sharing anything related to specific technologies (since this came up a lot!)
Shared resources – for collaborating on and sharing resources
AP Learning Circles – for sharing topic/speaker ideas (including volunteering to speak and share your strategies and tips), and planning the next every-other-month live Learning Circle
General – for anything else

As you think of new channels for focused conversations and sharing, we invite you to suggest them or create them – this space is for you and we want it to be as useful as possible

Notes from the 4/26 Learning Circle are available within the Teams workspace (in the AP Learning Circles channel under the files tab)
What's next?
Join the Teams space, introduce yourself in the introductions channel, and pop into other channels to share any questions or ideas

In the AP Learning Circles channel, respond to the poll to decide on our next conversation topics

Share the Teams workspace link with administrative professionals in your network at VU, so they can join the conversation (and so we can grow this community!)
If you'd like to take on a leadership role to help grow this learning circle and community of practice, please email ele@vanderbilt.edu 
Creation of the Administrative Professionals Learning Circle
In 2022, HR ELE held multiple focus groups with administrative professionals across the university to understand better their experiences, challenges and needed resources. Peers were the most frequently noted valuable resource: making connections with those in similar roles within and outside of your department, and learning about and through each other's experiences.   
HR ELE plans more development opportunities for administrative professionals soon, focused on key skills for success in the field as identified by focus groups and topics covered in professional credentialing programs. Together, the programming and learning circles will empower administrative professionals to invest in their professional growth and development, provide an opportunity to recognize and celebrate their expertise and skills and create opportunities for administrative professionals to build community and share resources.   
To read more about the creation of the Adminsitrative Professionals Learning Circle, please visit the April 2023 article in myVU.